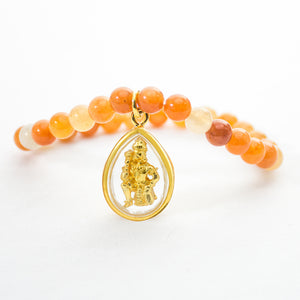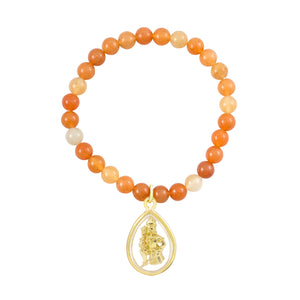 Product image 1

Product image 2

Walk On The Path Of Excellence, Victory & Success!
Lord Hanuman symbolically stands for pure devotion, complete surrender and absolute strength. Hanuman is known to give one absolute strength and confidence during times of hardship.
This bracelet is made with finest natural gemstone and lord hanuman pendant, it will help to overcome all negative energies and will give you courage and divine intuition. The wearer walks on the path of excellence, victory, and success.
Features
-Gender: Unisex
-Idol: 9.25 Silver with gold plating
-Casing: Acrylic & Alloy
-Bead Material: Orange Aventurine Beads
-Bead Size: 8mm
-Pendant design: Lord Hanuman
-Pendant Material: Stainless steel
-Pendant Size: 12mm
-Elegant design
*Please remove while going into water.